NEW Select Koi Listings
We have lots of NEW select koi listings, including some very large 16-18" butterfly and standard fin koi! This may be our last group of large koi for the year so don't miss checking them out.
Shop Now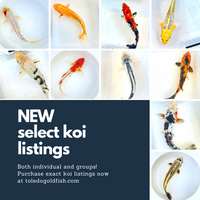 BACK IN STOCK: Ornamental Channel Catfish
Channel Catfish (Ictalurus punctatus) are the most common catfish in North America. Commonly referred to as the "channel cat," they are pale gray/blue in color with scattered dark spots. 
Shop Now
Give the gift of fish! 🐠 🦞 🐸 🐌
Toledo Goldfish gift cards make perfect gifts for the aquarium hobbyists or koi pond enthusiasts in your life!
Shop Gift Cards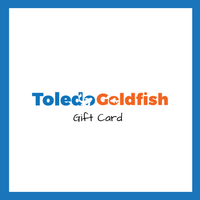 Shop Our Products
Buy quality fish directly from our family owned farm shipped to your doorstep. 
shop
Connect With Us
Connect with us on
Facebook and Instagram! 
@toledogoldfish
Connect
Contact Us
Our team takes pride in our high quality fish and great customer service! 
Contact Us